Loans on the mobile app
NEW – LOAN APPLICATION
---
We are pleased to announce that members can now apply for a loan on the mobile app and new online account management system via our website.
Sign up is easy by downloading our mobile app available on App store and google play or via our website
SIGN UP BY WEBSITE  OR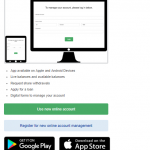 SIGN UP BY DOWNLOADING OUR MOBILE APP:
ONCE YOU HAVE SIGNED UP YOU CAN LOG IN VIA MOBILE APP OR THE NEW WEB SYSTEM – YOU ONLY NEED TO SIGN UP ONCE BY EITHER METHOD
PLEASE NOTE YOUR LOG IN DETAILS AND PASSWORD FOR THE CLASSIC SYSTEM WILL REMAIN THE SAME – THIS IS A DIFFERENT, NEW SYSTEM.
Sign up today to:
NEW – APPLY FOR A LOAN
REQUEST WITHDRAWAL TO YOUR BANK ACCOUNT AT THE CLICK OF A BUTTON – NO NEED TO PHONE AND IT TAKES SECONDS.
View your balances
Check your recent transactions
Update your information with us:
Update your personal information*
Update marketing preferences
Update beneficiary information
Add or remove a bank account*
Send us a secure message
*We will require proof of change of address, name and new bank account details. You can do this by taking a photo of your proof and sending it to us by secure message on the mobile app or new web portal.