UNIVERSAL CREDIT
---
NOTICE TO MEMBERS APPLYING FOR UNIVERSAL CREDIT
---
---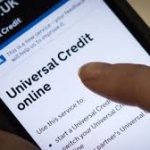 To ensure that your Universal Credit payment comes into your LASER account correctly please provide your membership number under reference or roll number.
You will need to provide our sort-code and account number and then your membership number.  The format is a 6 digit reference number so if your membership number is, for example 7125 you will need to input 007125 or member number 97 would be 000097.
Please do not hesitate in contacting us via mobile app, our website, email or phone if you require any help or clarification with the information you need to provide.