Prepaid Visa Card
LASER is pleased to offer a e-account and a Visa Debit card to our customers.
This means that you can authorise us to load some, or all, of your savings or loan monies on to your debit card, for you to spend in the shops, buy items online or withdraw cash from the cash machine.
This card also comes with a great added bonus: a cash back reward scheme for spending in shops such as Asda, Argos, New Look and M&S.
The reward program gives you cashback rewards, meaning every time you shop with one of Engage's partners, you will receive a percentage of that bill back into your account. For example spend £100 in Asda with 10% cashback, receive £10 back into your account!
The card gives you access to your funds 24 hours a day, 365 days a year and can be used anywhere in the world, where the visa sign is displayed.
There is a £2 monthly management fee for usage of the card.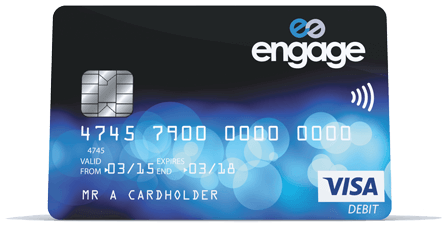 Cash withdrawals from cash machines will incur a fee of 75p within the UK. However, cash back from supermarkets is free.