10 Year Anniversary Celebration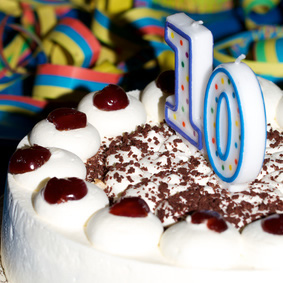 LASER Credit Union Ltd will have been helping the people who live and work in the Borough of Rotherham for 10 years in February 2013.
To celebrate this fantastic achievement, LASER is having a Celebration Day on Friday 15th March 2013.
Members are invited to join LASER staff and board members to mark this momentous milestone between 10am and 12.30pm in their office in The Old Town Hall.
Non members are welcome to join our celebrations and find out about the good work that LASER does in the community.
Anyone wishing to become a member of LASER at this time can do so FREE, saving the usual £2 membership fee. Just bring your identification and proof of address documents with you and invest any amount from £1 to £15,000.
The Mayor of Rotherham will be joining us at this event and will become the 3,000th member of LASER to open a savings account.
Both the Mayor and LASER's new Chair of the Board will be making speeches at 10.30am.
We have lots of free giveaways for both children and adults, including a special lunchbox for the first 100 childrens savings accounts opened on the day. Just bring your child's Birth Certificate and £1 or more to open an account.
There will also be the chance to obtain a free raffle ticket for all members, for the chance to win a hamper and other luxury items.
LASER is also looking to recruit more volunteers for both the Board and for LASER collection points out in the Borough of Rotherham. This is a great opportunity for anyone who may be interested, to speak to Board members and staff about how they can assist LASER.
Please join us for a fun filled day.