The Co-operative Electrical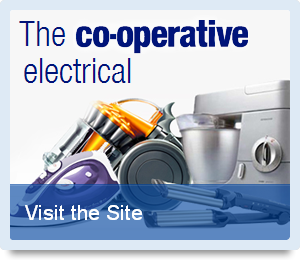 LASER is pleased to work in partnership with the Co-operative Electrical Shop.
The Co-operative Electrical Shop offers a wide range of electrical products representing good value for money.
The product range has been developed by including only renowned manufacturers offering quality products, including: washing machines, fridge/freezers, cookers, vacuum cleaners, televisions, laptops, games consoles and many more items.
Please browse the website to find the item or items that you are looking for and then follow the link below to order your goods through LASER.
Goods can be delivered free of charge within 24 hours, in allocated 90 minute slots during the day. See website for details.
If you need finance to pay for your goods, please apply for a LASER loan to fund your purchase, using the link below.